*** SPECIAL DISCOUNT FOR MPG FULL MEMBERS ***

Imogen Heap, Grammy award winning singer-songwriter to keynote the Futuresource Audio Renaissance event.

 
We are delighted to announce that Imogen will join our exciting line up of speakers on Oct 20th. Enjoying success on both sides of the Atlantic, Imogen is renowned for innovation and is a keen supporter of technology in enhancing both the creation and distribution of music. Imogen will share her opinions and insights on the future for the music industry and how the business models are likely to change in the light of the growth of subscription music services, ensuring equality for all involved.
Matt White Confirmed for the Premium Audio Session
 
Matt has worked nearly 20 years as a recording engineer and record producer, working with Pink Floyd, Genesis, Pulp, Robbie Williams, Kylie and many more. For the last 10 years, Matt has worked in the digital music industry guiding the correct usage and transcoding of master assets, metadata and user experience in audio and app development.

Here are all the confirmed speakers:



The Audio Renaissance also includes Futuresource Market Insight presentations, providing you with strategic analysis of the current landscape and an exploration of the key challenges and opportunities in the years ahead.

 

This event is an unrivalled opportunity to meet, connect with and learn from senior decision-makers from across the globe.

If you'd like to attend this event, delegate places cost just £79 per person ex vat, and they are selling out fast!
10% discount for MPG Full Members – select the "MPG Partner Association" tab and use the promo code FSMPG10.

 


Meet Our SponsorsDate
Tuesday 20 October 2015Registration Begins
1.15pmCocktail Reception
5.45pmDelegate Price
£79Interested in sponsorship?
Join us and showcase your brand and products in the presence of industry influencers.

Demo Spaces
Brochure Ads
Branding Opportunities

For more information on sponsorship opportunities, please visit the website or get in touch with Nicola Finn at Futuresource via:

nicola.finn@futuresource-hq.com

We look forward to welcoming you to our event.

Futuresource Consulting Ltd, all rights reserved
1st Floor, 45 Grosvenor Road, St Albans, Hertfordshire, AL1 3AW, UK
Music Industry eXchange is a series of events hosted by Echo Factory (formerly BCME), supporting and connecting music industry and related practitioners.
Guest Speakers:
Pete Bassett (Quite Great PR) Van Morrison to Mick Jagger, Rod Stewart to Ray Davies, former Head of PR Polydor, MCA.
Brad Kavanagh (House of Anubis) Nickleodeon award winning actor now establishing as an artist.
Live & social media Q&A:
Hosted by savvy singer-songrwiter Anna- Marie Johnson (@AMSongstress)
Braodcast live to EAVA FM/web by radio presenter Bhavik Solanki (DJ & Echo Factory graduate)
MI-X networking group aim is to support those involved in the powerhouse that is the Midlands music scene. To share expertise and best practise, to connect music industry & associated practitioners.
This is unique outside London, so if you're in the industry or trying to get into the industry – come along!
MPG member, John Paul Braddock will be on hand, representing the Music Producers Guild and ready to answer all your questions about the MPG!
Click here to register. Admission FREE.
** SPECIAL RATE FOR MPG FULL MEMBERS **
This think tank considers the pressing issue of creators' rights and remuneration in the digital landscape. It is informed by the presentation of a paper by Fiona McGugan, which considers the evolution of communication rights that overshadow conventional distribution and reproduction rights as music consumption increasingly shifts away from ownership, towards access models of streaming services.
Understanding how this right is applied, territorial variations in the application of rights, and how licensing structures are determined according to the levels of user-interactivity of digital services lie-at the heart of possibly the single biggest issue facing the music industry in recent times – how much artists get paid.
Fiona McGugan's free paper – An In Depth Analysis of Communication Rights Applied To Licensed Music Streaming Services and the Subsequent Impact on Performers – will be published mid-October. Pre-register your interest here.
Joining Fiona McGugan FAC & MMF, will be Horace Trubridge, Assistant General Secretary, MU; Benoît Machuel, General Secretary, FIM; and Alexander Ross, Partner, Wiggin LLP, with others tbc. This session will be chaired by MusicTank chair, Keith Harris, OBE.
Date & Time: Tues 10th Nov; 18.30 – 21.00 hrs
Venue: Univ. Westminster, Fyvie Hall, UoW, 309 Regent St. London, W1B 2UW |
Cost: Super earlybird rates currently apply! MT members £15, standard £25 (students £10) | Booking
USE THIS PROMOTIONAL CODE: CRITDL1115 (subject to availability) and save £5 on the full price option – early bird rates currently apply for additional savings. Offer ends Nov 1st.
Information & booking: http://bit.ly/MTCreatorsRights
@musictank #musictank
Questions? Please contact jonathan@musictank.co.uk
Former board member and long-standing MPG Member Russ Hepworth-Sawyer and colleague Paul Baily invite you to the next MPG North meeting which will take place in Leeds on the 4th November from 7pm.
Former MPG Chairman Phil Harding will provide some warming words on his current work as well as some discussion about Music Production in the North.
The event is open to all but you must register by hitting the CLICK HERE button below.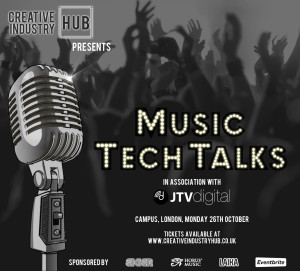 THIS EVENT IS NOW SOLD OUT
A new event organised by Creative Industry Hub:
Are you a musician? Or do you work in the music industry and have a genuine interest in how technology has impacted the music industry?
Do you want to know how technology will transform the music industry moving forward?
We're holding a FREE 'Music TechTalks' event at the Campus in London on the 26th October, and we've invited some of the UK's most successful and established music leaders to deliver a wide range of talks to you on how technology is impacting the music industry, and what you can expect from the future of music.
By coming to this event, you'll learn:
1. How technology is changing the music industry and how you can navigate the shifting landscape
2. The latest trends and insights in the 'Music Tech' space and the opportunities it opens up for you
3. The latest technology available to you in the music industry and how you can use technology to benefit your own music career.
This is your chance to gain a fantastic insight into the music tech scene and take home practical new insights that you can apply to your own careers.
And who better to talk on these subjects than the fantastic speakers we've arranged?
* Jason Perry (Grammy-winning international producer and lead singer of 'A')
Subject: 'Stop Trying So Hard'
* Paul Conroy (former President of Virgin Records UK)
Subject: 'Record Labels: Past and Present'
* Pete Downton (CCO at 7digital)
Subject: 'The Three Ages of Digital Music'
* Rory Bernard (Chairman at SynchTank)
Subject: 'Technology, Data and Driving Synch Revenues'
* Jon Skinner (CEO at Music Gateway)
Subject: 'Global Collaboration In Music Co-Writing'
* Harry Leckstein (MD at Soundcheque)
Subject: 'Content Marketing is King. How Can Music Help?'
* Nick Dunn (CEO at Horus Music)
Subject: 'The DIY Revolution: How to Help Yourself'
* Rebecca Lammers (CEO at Laika Network)
Subject: 'YouTube for Musicians: Getting Discovered'
As this is a FREE event with a limited amount of tickets on a first-come, first-serve basis, we highly recommend you get your free ticket now. Don't miss out.