*** 20% discount for MPG Full Members ***
This event is for both music industry and music creatives from the commercial music world and media music world. It is also suitable for people who work around music such as radio, tv, film and advertising, computer games developers.
There is space for 150 people from across these disciplines to meet, with Musical Geishas on hand to help facilitate business introductions.
This event is supported by the Music Producers Guild and endorsed by BASCA. The event is sponsored by www.scan.co.uk who pay for the first round of drinks so it's worth arriving promptly!
This is an invitation only event. Remember to bring your tickets with you. This is now Britain's premier music industry networking night and is always oversubscribed.
Reserve your space early to avoid disappointment.

For more information about The Musical Geisha please visit this link.
There is a 20% Discount available on the ticket price for MPG Full Members – enter this promotional code when you book: MPG
If you have questions about The Ultimate Music/Media Industry Networking Night – London? 
Contact Rowena Morgan
Resolution has taken on the staging and management of the SoundPro expo that was introduced by the Institute of Professional Sound (IPS) and other pro sound organisations. The one-day event will be the seventh annual event of its type.
"The idea of an informal, accessible and audio targeted UK event for audio freelancers, location recordists, production sound operators, and audio professionals in broadcast, film, post and live sound enjoys a strong resonance among the UK audio community," said Resolution''s Zenon Schoepe. "We and the IPS share the same vision of what this great event should be and we're co-operating to make it better and more resilient."
SoundPro 2015 will be held in a different and more appropriate hall to last year's event and will include an informal table-top exhibition of manufacturers, distributors, dealers and service providers, practical presentation sessions by the IPS, and an opportunity to meet, socialise and network with likeminded individuals.
Confirmed exhibitors at the SoundPro expo include Calrec, Rycote, BCD Audio, SoundKit Ltd, Audio Ltd, Sound Network, Audio Related Technology, PMC, Focusrite RedNet, Dedleg, Ioco (Schoeps), and Sennheiser UK.
It is free to visitors https://soundpro2015.eventbrite.com
"At its core we want to deliver a proper table-top pro audio expo in the best British tradition!" said Schoepe.
*** DISCOUNT FOR MPG FULL MEMBERS ***
Come along to get an overview of the MMF's 
essentials of music management
 including management c
ontracts, income streams and royalties, a
ccounting & finance and
 releasing and marketing a record.
The afternoon covers the basics of business with presentations from top industry lawyers, accountants and insurance brokers and gives participants the opportunity to put questions to a panel of industry experts. Taught by MMF CEO, Jon Webster and artist manager and digital marketing expert, Erik Nielsen, the course has been described as "a three-year degree in a day" and is used widely by both new and experienced managers, giving the most up-to-date industry information you'll need.
For MPG Full Members only, this is an evening to find out more about Presonus Studio One Professional.
Hosted by Studio One Expert, join Russ Hughes and Paul Drew of DWB Music to find out how more and more professional producers are using PreSonus Studio One Professional as part of their music production workflow. During the evening Paul will be showing how he creates a track in Studio One and how it fits in as part of his Pro Tools workflow. This evening is aimed at working professional songwriters and producers. Spaces are limited and by invitation only.
Register here.
Paul Started off his musical career as a session guitarist playing for bands like Roachford, McCabe, Artful Dodger. During this period Paul discovered his passion for Music recording/ music technology and producing. Paul is the D of DWB Music Ltd/ DWB MIXING, the DWB Music team have sold in excess of 50 million records throughout the world. DWB have written/produced and mixed tracks for Project 46, Marcella Detroit, TVXQ, Boa, McCabe, Kate Ryan, Kat-Tun, D-Side, Born Crain, Shinee, Natalia, Debi, Sandee, NEWS, Anna Tsuchiya, Katerine, SS501, Tohoshinki amongst many others.
Paul works out of studios in Surrey and in the UK. He is currently dealing with his unhealthy musical gear obsession.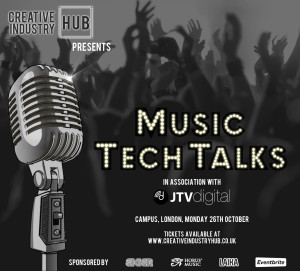 THIS EVENT IS NOW SOLD OUT
A new event organised by Creative Industry Hub:
Are you a musician? Or do you work in the music industry and have a genuine interest in how technology has impacted the music industry?
Do you want to know how technology will transform the music industry moving forward?
We're holding a FREE 'Music TechTalks' event at the Campus in London on the 26th October, and we've invited some of the UK's most successful and established music leaders to deliver a wide range of talks to you on how technology is impacting the music industry, and what you can expect from the future of music.
By coming to this event, you'll learn:
1. How technology is changing the music industry and how you can navigate the shifting landscape
2. The latest trends and insights in the 'Music Tech' space and the opportunities it opens up for you
3. The latest technology available to you in the music industry and how you can use technology to benefit your own music career.
This is your chance to gain a fantastic insight into the music tech scene and take home practical new insights that you can apply to your own careers.
And who better to talk on these subjects than the fantastic speakers we've arranged?
* Jason Perry (Grammy-winning international producer and lead singer of 'A')
Subject: 'Stop Trying So Hard'
* Paul Conroy (former President of Virgin Records UK)
Subject: 'Record Labels: Past and Present'
* Pete Downton (CCO at 7digital)
Subject: 'The Three Ages of Digital Music'
* Rory Bernard (Chairman at SynchTank)
Subject: 'Technology, Data and Driving Synch Revenues'
* Jon Skinner (CEO at Music Gateway)
Subject: 'Global Collaboration In Music Co-Writing'
* Harry Leckstein (MD at Soundcheque)
Subject: 'Content Marketing is King. How Can Music Help?'
* Nick Dunn (CEO at Horus Music)
Subject: 'The DIY Revolution: How to Help Yourself'
* Rebecca Lammers (CEO at Laika Network)
Subject: 'YouTube for Musicians: Getting Discovered'
As this is a FREE event with a limited amount of tickets on a first-come, first-serve basis, we highly recommend you get your free ticket now. Don't miss out.
*** DISCOUNT for MPG Full Members ***
An unmissable Music And Film Industry Event   
Special discounted 'affiliate' rate of £75
Vital for anyone working or aspiring to a career in the music and film industry, SensoriaPro is back and bigger than ever before. 
A unique opportunity to gain valuable hands-on experience and rub shoulders with the experts.
A packed2 -day programme of panels and masterclasses featuring:

FILM MUSIC PRODUCTION MASTERCLASS with Ilan Eshkeri & Steve McLaughlin
Ilan Eshkeri's scoring credits include Kick-Ass, Stardust and the Oscar-winning Still Alice. He's worked with Annie Lennox, Tim Wheeler and Tom Odell to name but a few and now he's coming to share his vast knowledge with our SensoriaPro attendees.
Grammy Award-winning Steve McLaughlin has produced, recorded and mixed scores for over 140 major feature films, including Robin Hood, Prince of Thieves, Die Hard, Lethal Weapon and About a Boy.

CHOOSE LIFE, CHOOSE A SCORE
The annual SensoriaPro scoring contest is always a delegate favourite – this year the contest looks at the opening sequence of Trainspotting.
Here's your chance to score or place music for film and get your submission critiqued by a panel of industry experts including Ian Neil (Director of Music for Film and TV, Sony), Will Quiney (Empire Design) & Kirsteen McLean (Discovery). 

IF IT'S PLAYED, IT'S PAID: A FAIRER FUTURE FOR MUSIC
Crispin Hunt will be joined by other experts, including music journalist Rhian Jones (Music Week, The Guardian) & Daniel Jones (PRS for Music), to discuss how artists fare in the various business models and deals (especially streaming) around at the moment.

WHAT MAKES A MUSIC CITY?
With Amy Terrill (Vice President Public Affairs, Music Canada)
In Association with the University of Sheffield

VIVE LE VENUE – SUSTAINING LIVE MUSIC
With guest speakers Mark Davyd (Music Venues Trust), Kelly Wood (Live Performance Official, MU), Tim Arnold (Save SoHo) & James O'Hara (Picture House Social / Great Gatsby).
WRITING MUSIC FOR SILENT FILM 
Leading silent film accompanist Stephen Horne joins Nigel HUmberstone to discuss the various aspects and opportunities of composing for this medium.
CUTTING THROUGH THE NOISE – GETTING YOUR MUSIC COVERED BY THE PRESS
W
ith 
Laura Snapes
 (Pitchfork, UNCUT, NME, Guardian) 
David Stubbs
 (Freelance writer and author) 
Abi Bliss
 (WIRE Magazine) & 
Rhian Jones
 (Guardian, MusicAlly, Music Business Worldwide).
THE SKY'S THE LIMIT – MUSIC FOR GAMES 
Members of 65daysofstatic discuss writing music for the upcoming sic fi video game No Man's Sky.

FESTIVAL FEVER 
Have music festivals peaked? – with guests including Yvette Chivers (Electronic Sound) & Kate Hewett (Tramlines)
DOING IT LIVE: Commissioning Live Cinema
How artists and composers can connect with the film exhibition sector with advice on funding, copyright and touring from guests Lisa Brook (Live Cinema) & Rebecca Shatwell (AV Festival).
ANATOMY OF A MUSIC VIDEO 
With Caroline Bottomley (Radar) and Mike O'Keefe (Head of Video – Sony)

MUSIC CLEARANCE FOR FILMMAKERS 
Practical guidance from Ian Neil (Director of Music for Film and TV, Sony)
The price includes refreshments and close of play drinks each day. 
A discounted rate is available for group bookings of 8 people or more – please contact info@sensoria.org.uk
SensoriaPro is part of Sensoria, the UK's Festival of Film, Music and Digital, returning to Sheffield from 25 September – 3 October
www.sensoria.org.uk
Continuing our series of events designed to introduce MPG Full Members to those of other UK music industry organisations, we introduce the first such social event with the members of the Audio Engineering Society.
Entry to this event is free, but you must register by hitting the CLICK HERE button below, as places are limited.
The Audio Engineering Society is the only professional society devoted exclusively to audio technology. Founded in the United States in 1948, the AES has grown to become an international organization that unites audio engineers, creative artists, scientists and students worldwide by promoting advances in audio and disseminating new knowledge and research. AES members have expressed a desire to connect with MPG members, with whom they share a lot in common.
It would be of interest to MPG members to make connections with AES members, especially so as to engage in technical discussions, as many MPG members now run their own studios, which present all manner of technical challenges.
Learn more about the origins of the AES here.